Which of these describes you?
I have an existing small business that I want to take online
I want to sell products or services online
I have little or no knowledge about web development
I am in a hurry to get my online business started
I have a limited amount of money to invest in building my business
I want to test the business idea before putting a big investment behind it
If any of the above applies to you, then read on to learn how the new ecommerce platforms are starting a revolution of sorts, putting millions of entrepreneurs and their shops or businesses on the web, quickly and on the cheap. Just so you don't get confused, here are some of the different terms used to describe this new service. All of these mean the same thing:
e-commerce platform
hosted platform
online store builder
DIY e-commerce solution
ecommerce SaaS application
The Old Way
The old way of setting up an ecommerce site was to go to a web developer and commission them to build a site. But there are issues with that approach, as this illustration shows.
And The New Way
E-commerce platforms are powerful tools which already incorporate the best practices of online selling. So business owners are not just getting a neat tool, they are also getting highly user-friendly, slick-looking stores with most of the necessary services like shipping and payment gateways available through a single point of contact.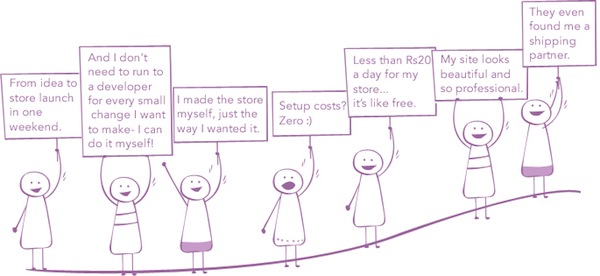 Take a closer look at some of the online store builders out there. You can start with PowerStores. We have an easy-to-use service that's perfect for first timers who want to start light and add features as they go along. And for those who want to build an online store over the weekend.